Advertising in  Athens News
We have provided different formats of advertising places: banners, advertising articles, text advertising on the forum, advertising in the catalog of goods and services, rubric sponsors. Each of the existing formats has its own advantages and provides the advertiser with the opportunity to use various techniques to promote their services, objects, products, and the company as a whole.
Advertising spaces:
banner advertising
Banners are a classic form of online advertising. They allow you to post illustrations, photographs, animations and other visual images aimed at both emotional and rational perception of potential customers. Banners are best suited for advertising goods and services of your company. I would also like to draw your attention to the fact that we not only offer the placement of banners, but also offer their production.
Placement of blocks on the Athens News website
Placement of blocks on subdomains
As of January 27, 2023, our publication has 10 subdomains, where information from the main site is translated using artificial intelligence into additional 17 languages. In addition to block advertising, we can publish your advertising texts on these pages.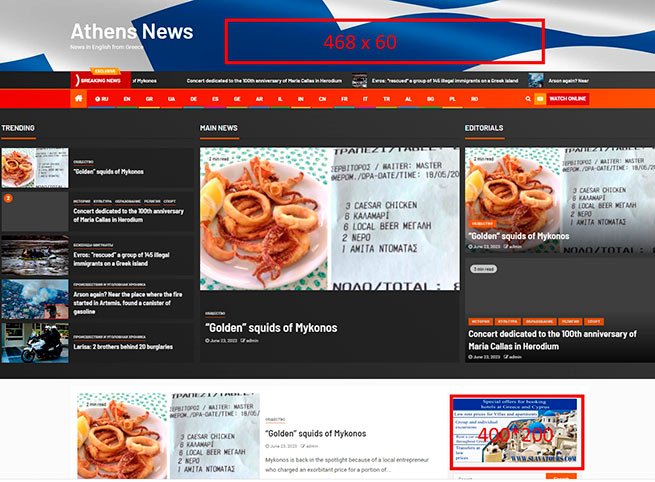 2 – formats classic 468*60 / 400*200/ 400*400/ 400*800. Other sizes are also available.
Advertising in the catalog of goods and services
The Athenian News website provides a service for placing your advertisement in the Business catalog of goods and services. This catalog contains more than 1500 enterprises and individual entrepreneurs. It is possible to create in this section, in fact, your own page on the Internet, which you can link to in front of your customers. An example can be seen  here.  This section is constantly expanding and is in steady and constant demand among site visitors as a source of reference information.
The cost of placing publications in the business catalog is 40 euros per year. More. 
Advertising articles
We especially recommend promotional articles for our advertisers .
All advertisers are familiar with the situation when their advertising is ignored and simply, roughly speaking, they spit on it. And the situation is not that your product is bad, or you have a bad reputation, the problem is that from the abundance of advertising, most people are tired for a long time, and they either simply do not notice it, ignoring your attempts to attract attention, or simply leave this ad space. You can avoid this trouble in the following way:  using promotional articles. With the help of interesting material that unobtrusively talks about your product and service, or even a hint or as if by chance written information is perceived in a completely different way, with a much higher level of trust. If you do not have such material, our experienced journalists will be able to write it for you. The price of writing an article is negotiable and depends on the volume and subject matter.
The cost of publishing promotional articles
With publication on the main page  and contact details and Dofollow Link:
Optional:
Output to RSS feed
Google News feed (publication not guaranteed, depends on Google News moderation) Yandex 
publication  Facebook news (group and page) indicators see below, Twitter, Odnoklassniki, Vkontakte – (We accept publications only on a predetermined topic. We can refuse to publish an inappropriate day for us due to the context of the material)   Cost 300 euros 
Without publishing on the main page and contact details  and Dofollow Link:
Optional:
Output to the RSS feed
Submit to  Google News  (publication is not guaranteed, depends on Google News moderation)
Post to  Yandex news
Facebook (group and page),
Twitter, Odnoklassniki, Vkontakte –
(We accept publications only on a predetermined topic. We can refuse to publish the wrong day due to the context of the material)
Cost 100 euros
Publication in a special section  with indexing from Google,
Without output to the main page
In the site partners section and Dofollow Link Any allowed topics  26 euros, on the main site, 15 euros on subdomains Athens News News in English from Greece  https://en.rua. gr/ , as well as Greek  https://gr.rua.gr /, German  https://de.rua.gr/ , Spanish  https://es.rua.gr/ for  5 euros on other subdomains*. 
Below are the prices for various types of advertising on our project:
Category 1 – heading News – 15-25 thousand views per day.
2 category other headings of the site 10-25 thousand views per day.
All prices are excluding VAT (24%)
*(excluding the cost of banner production)
Discounts for a long period :
Subject to placement: for 6 months – 15% discount / for 12 months – 25% discount
Pricing policy.
The above prices may vary depending on the ranking of the site and the number of visitors to the site. But the site administration will not change the prices for already paid advertising.
All prices are given without VAT in Greece – 24%
You can order advertising:
Tel: +302103839459
Mob +306972288719 WhatsApp/Viber/Telegram
Skype onoyko
Email:  [email protected]
Perspectives and guarantees
The guarantors of the reliability of the information provided are our NAME created since 2004, and millions of our readers.
The portal cooperates with dozens of journalists, writers, lawyers and other highly professional specialists.

You can pay for advertising through a bank account:
Eurobank: – 0026.0200.430106055945 (IBAN GR3802602000000430106055945 SWIFT EFGBGRAA)
Swift trapesas bic ethngraa
Τράπεζα Πειραιώς – 5126-035164-032 (IBAN GR8201721260005126035164032 PIRBGRAA)
Payment only through the issued Invoice
If the payment amount is below 50 euros, and is made to the above accounts not from one of the above banks, +3 euros is added to the payment amount.
Through a credit card using a secure payment system PayPal transfer to [email protected]  account
Revolut @pavlols52
Юмани 41001510529181
Statistics
For 2022 – as of December 31,  6.192 million visits ,  (2.3 million unique visitors from 185 countries)  about 62.184 million pages  viewed
Every day the site receives from 10 thousand to 90 thousand  (an average of  18 thousand  people a day ), which is about  0.51 million  visitors per month
Over the past  18.5 years  (as of January 1, 2023) of the existence of the project, more than 51 million visitors have visited our site    and at least  420 million pages have been viewed.
Every month we publish more than 600 publications (average 22 per day)
Geographical indicators of the site "Athenian News"  rua.gr  visits on January 1, 2023 Google analytics 
Russia 57.30%
Greece 12.57%
Ukraine 4.71%
Germany 2.76%
Belarus 2.23%
Kazakhstan 2.19%
US 1.33%
Israel 1.23%
Thailand 1.06%
Other 14.62%
---
*Our website is translated into 17 languages
Each site has  its own system  of statistics and advertising and is an absolutely independent site. You can place ads and publications on it  independently of other languages . Sites 1 to 5 are operational from April 2021, sites 6 to 10 were launched in January 2023, sites 11 to 17 from April 2023.
---
Social networks help (as of June 1, 2023):
Our site is also broadcast on:
Download  mediacit2022
Viewing Devices: 
Mobile 84.67%
Desktop 13.48%
Tablet 1.33%
We also make our own websites. Read more at   www.wstudio.gr . 
Advertising outside the information space of the Athenian News website:  We are also professionally engaged in advertising on the Internet. If you need to make an advertisement for your product, service or promote your website, please contact us  www.wstudio.gr